Morton thriving in his new role
Butler sophomore now team leader
December 19, 2017 High School Basketball

<![if !supportLineBreakNewLine]>
<![endif]>
<![if !vml]><![endif]>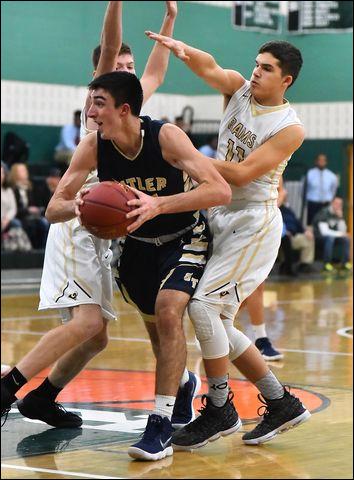 Butler's Ethan Morton (25) makes a move vs. Highlands in the season opener. The sophomore is averaging 21 points, six rebounds and six assists so far this season.
BUTLER EAGLE FILE PHOTO
BUTLER TWP — Ethan Morton insists he's still learning.
Scary thought.
Butler's 6-foot-5 sophomore point guard has the Golden Tornado boys basketball team off and running this season — literally and figuratively.
The Tornado takes a 5-0 record at Shaler and Morton takes some gaudy numbers into that contest.
"We're playing faster and Ethan is our leader in that regard," senior guard Luke Michalek said. "He's making all of us out there better. I love it."
Morton averaged a respectable 13 points and four assists per game last season in helping Butler reach the WPIAL Class 6A championship game. A bevy of seniors from that team — and three fellow starters — are gone.
"Ethan just wanted to fit in last year, earn his time on the floor," Butler coach Matt Clement said. "His biggest concern was helping the seniors max out their final year of high school basketball.
"Now, this year, it's his team. We've told him that ... I think he already knew that."
Through five games, Morton is averaging 21.3 points, 6.5 rebounds, 6.7 assists and two steals per game. His point average would be higher, but he only scored 11 points in a 41-point win over Summit Academy, playing only a couple of minutes in the second half.
Morton did have 10 assists in the first half of that game.
"We're focused on winning here," Morton said. "I know I have to take on a bigger role than last year, be more of a leader.
"That's still new to me. I'm still learning how to do that."
Apparently, he's learning quickly.
Morton began the season by scoring 35 points, grabbing 10 rebounds and dishing out seven assists against Highlands. He scored 28 points and had seven assists against Ambridge, then 20 points, eight rebounds and five assists against Plum.
Ambridge and Plum had not lost until they faced Butler.
"That kid is a handful," Ambridge coach Mark Jula said. "I thought we played pretty well (in that game). Fortunately, not many teams out there have a player like Ethan Morton."
In the section opener last Friday, Morton scored 35 points, had eight rebounds and five assists in a win over North Hills.
"The irony is it's not the 35 points that beat us," North Hills coach Buzz Gabos said. "It's everything else the kid does. He makes every player on the floor with him better.
"There's precious few players with that kind of ability."
Clement agreed.
"A lot of high school basketball players can score like Ethan can. Not many can pass like Ethan can pass," Clement said. "That's why so many major college programs want him."
This past spring and summer alone, Morton visited Wisconsin, Iowa, Ohio State, Penn State, Pitt, Indiana, Purdue, West Virginia and Duquesne.
Every night Butler plays a game — at times, even at practice — college scouts are milling about.
"It's all part of the process for me and I've been able to separate it from everything else," Morton said of the recruiting. "I've been able to visit a lot of campuses and meet a lot of great coaches.
"It's gathering information, that's all it is. I don't have to make a choice for a while."
All he has to do is continue being the trigger man on Butler's fast-break attack and wreak havoc on opponents defensively.
"He's put in a lot of hard work in basketball toward what he's trying to do," Clement said of Morton. "He's gifted physically and he's a good basketball player. He never stops taking the time to polish himself.
"He's only going to get better."
Again, scary thought.
"He's bringing us to a new level," Michalek said.
And having fun while doing so.
"We play in a tough section and we're going to be challenged," Morton said. "We lost 10 guys from last year. We're playing with a lot of new faces now.
"We can still win. Our goal is still winning a WPIAL title for this school. It's been a while since that happened. We want to change that.
"It's not about my goals. It's about the team's goals."