Junior Varsity Baseball
2017
current junior varsity info...




2014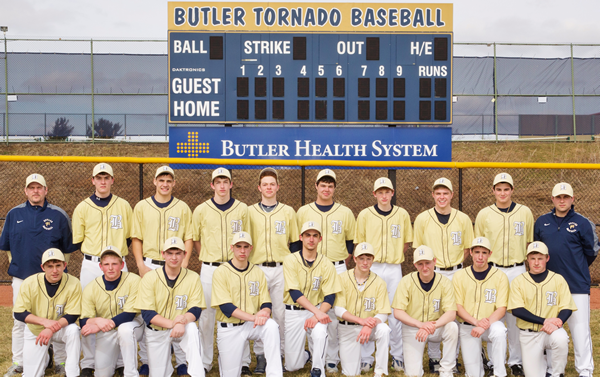 past seasons

Butler 14, Mount Lebanon 13
Zach Rader went 5-for-5, including two doubles and six RBI, to power the Tornado Monday.
Dante Dorcy had two doubles, and Dalton Koebler tallied a triple and the game-winning hit for Butler (4-1).
Butler beat Riverside 8-3
Alex Ziegler had a single and double, Josh Friel a double and Colin McKee a single.
Butler Junior Varsity Baseball defeated Pine Richland 8-2.
Excellent combined pitching effort between Justin White and Colin McKee only giving up 3 hits.
– Zach Rader was 2 for 2 with two singles; Alex Ziegler was 2 for 3 with a triple; Tom Bruce was 3 for 4 with 2 singles and a double. Butler Junior Varsity now has 7 wins and 7 losses for the year.

Butler - 1 Fox Chapel - 0
David Thompkins hit a two-out double that scored Ian Jewart with the only run of the game as the Butler junior varsity baseball team edged Fox Chapel 1-0.
C.J. Miller tossed six scoreless innings, giving up two hits and striking out eight.


Butler - 9 Kiski Area - 6
Ian Jewart smacked a double and a home run and ended the game with three RBI as the Butler junior varsity baseball team defeated Kiski Area, 9-6 .
C.J. Miller added two singles, a run scored and two batted in for the Golden Tornado (8-3, 7-2).
Ron Glassman pitched five innings in the win, striking out two and walking four while Cody Herald pitched two innings, giving up one run on one hit.

Thank you for your interest in the Golden Tornado Sports. We're upgrading our stat pages to provide you with better information. This site, www.goldentornadosports.net, is dedicated to bringing the viewer as much information as possible about each and every sport supported by Butler Athletics. All information regarding Butler Athletics is generated by students and parents who seek to provide the very best updated material for all to view. We invite you to submit any appropriate material by clicking the below address and attaching, doc.'s, photo's and other pertinent information related to the sport of your choice. Thank You.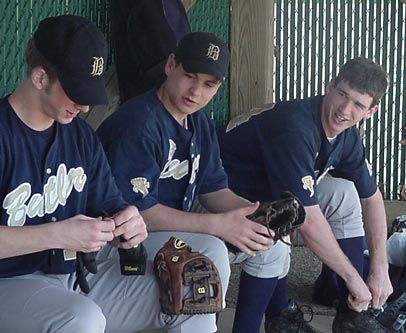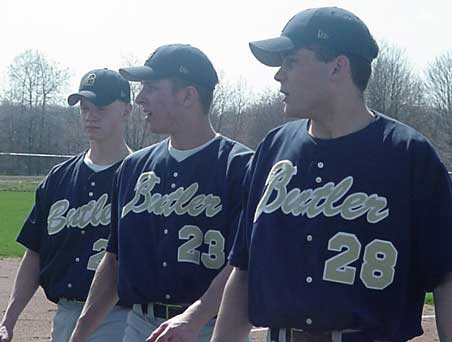 Butler-5
New Castle-4
Dan Forbes doubled and Adam Collins singled and had 5 stolen bases. Jason Monk also had a double.

Butler-11
Seneca Valley-0
Dan Forbes, Adam Collins, Adam Ordy doubled and Tim Nebel and Jared Hohn both doubled and homered. Dan Forbes pitched the whole game striking out 5.

Butler-4
North Allegheny-14
Gary Gombos and Jason Monks both doubled.

Butler-3
North Hills-1
Tim Nebel- 1 double

Butler-6
Central Catholic-12
Jason Monks- 2 singles

Butler-13
Franklin-3
Dan Forbes- 2 doubles Jake Voigt- 2 singles, 1 double... Adam Collins- 1 double, 1 triple... Jared Hohn-2 singles, 1 double Tim Nebel-1 double, 1 single
Butler - 3
Seneca - 2
Jason Monks tripled and Jared Hohn threw a complete game striking out 3 and only giving up 3walks.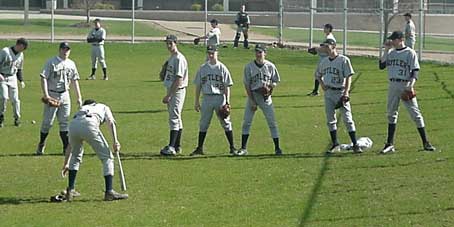 Butler - 10
Shaler - 6
Gary Gombos doubled and singled singled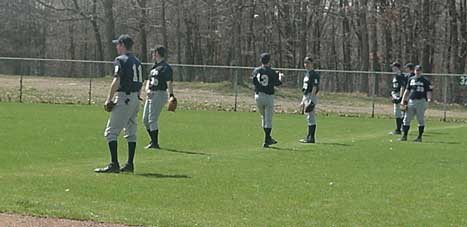 Butler-14
North Hills-12
Dan Forbes had two singles and a double to pace the Tornado offensively. Chad Glad also doubled. Jason Monks and Tim Nebel both tripled, Monks also had a single to go along with his three bagger.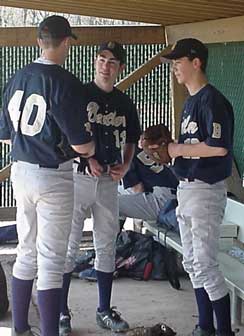 Butler - 8
North Allegheny - 10
The JV Tornado were down 8-3 entering the bottom of the 6th and rallied to tie the contest, but NA prevailed in the 7th. Adam Collins continued his torrid hitting with three hits including a double to pace the Golden Tornado. Justin Julius and Gary Gombos also doubled in the loss.
Butler-8, NA-10 We were down by 5 in the bottom of the sixth and came back to tie it but they scored 2 in the top of the seventh to secure the win.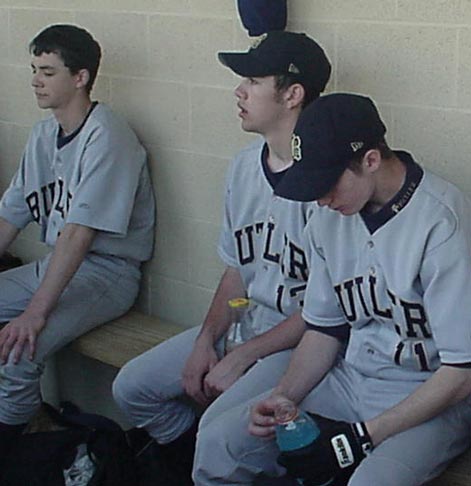 Butler - 9
Grove City - 8
Butler was down by two going into the bottom of the seventh when hits from Dan Forbes, Nathan Leonard, Jake Voigt, Adam Collins, and Jared Hohn scored three to win the game. Offensively for the Tornado Chad Gladd singled, Nathan Leonard, Tim Nebel, Dan Forbes and Adam Collins all doubled. Jake Voigt had a pair of singles as did Jared Hohn including the winning hit in the bottom of the seventh.
Butler - 9
Mt Lebo - 4
Highlighting the Tornado attack was Jared Hohn's three hit performance two doubles a single and 4 RBI. Adam Collins also had a three hit afternoon with 2 singles and a double with 2 runs batted Jason Monks threw three scoreless innings striking out 3.
Butler - 6
North Catholic - 0
Four Tornado pitchers combined to record 8 strikeouts and the one-hitter. Justin Julius - 1 k , Dan Forbes - 2 k's, Mike Mortimer - 2 k's, and Bill Coulter with 3k's.
Butler - 6
Ambridge - 7
The Golden Tornado JV's spotted the Bridgers 6 in the first and fell short on the comeback effort. Jake Voigt tripled and Gary Gombos doubled. Mike Mortimer threw two perfect innings while striking out 4.
back to top
Thank you for your interest in the Golden Tornado Sports. We're upgrading our stat pages to provide you with better information. This site, www.goldentornadosports.net, is dedicated to bringing the viewer as much information as possible about each and every sport supported by Butler Athletics. All information regarding Butler Athletics is generated by students and parents who seek to provide the very best updated material for all to view. We invite you to submit any appropriate material by clicking the below address and attaching, doc.'s, photo's and other pertinent information related to the sport of your choice. Thank You.
back to top