7th Grade Basketball
Butler 7th Grade White-34
Marshall-27

Keenan Krause-12 points
Arum Krause-12 points
Justice Lewandowski-8 points

Butler 7th White-43
Pine Richland-28

Leading scorers
Justice Lewandowski-15
Louis Beck-10
Arum Krause-9


Butler-44
Carson-32

Justice Lewandowski-25 points, with 6 Three-pointers
Keenan Krause-10 points

Butler 7th White-37
Burrell-31

Keenan Krause- 20
Arum Krause- 10
Justice Lewandoski- 6

Butler Boys White Grade 8 36
NA Ingomar 27
High Scorers: Cory Wheeler 9 , Alec Geibel 8, Rich Marnic 7, Thomas Jendesky 6
Overall Record 7 W 6 L

Butler 7th White- 43
Ingomar --22

Arum Krause - 12 points
Louis Beck - 12 points
Justice Lewandowski- 7 points

Season Record 10-3

8th Grade Basketball

Butler-50
North Hills-24
Butler-38
Marshall-29

Butler Boys White
Grade 8

Butler - 33
Fox Chapel - 26
High Scorers:
Lucas Wesolik 14 points
Cory Wheeler 7 points
Butler Boys 8 White 50
Pine Richland 39
Leading Scorers
Cory Wheeler 16
Thomas Jendesky 9
Ryan Denny 9
Lucas Wesolik 8
Butler White 8 - 31
Seneca Valley 8 Black - 24
High Scorers: Thomas Jendesky 11; Cory Wheeler 6; Ryan Denny 6
Butler Boys Grade 8 White 43
NA Carson 30
High Scorers: Thomas Jendesky 11, Alec Geibel 10, Cory Wheeler 8, Rich Marnic 5
Butler Boys White 42
Shaler 24
High Scorers: Thomas Jendesky 10, Alec Geibel 10, Cory Wheeler 6, Ryan Denny 6
Overall Record: 6 W 6 L

9th Grade Basketball

Butler White - 35
North Hills 22
High Scorers: Rich Marnic 10 Cory Wheeler 8

7th Grade Gold
Butler - 32
New Castle - 20
Butler 7th grade gold basketball team defeated New Castle by a score of 32-20. Butler was led by a tremendous team defensive effort holding the team to only 6 points in the first half as they raced out to a 21-6 halftime lead and never looked back

Butler - 30
PineRichland - 25
Butler 7th grade Gold basketball team defeated Pine-Richland 30-25.
Butler had a tremendous effort defensively by the whole team holding the opponent to 9 first half points. Butler was led offensively by Mark Gross and relied on clutch foul shooting down the stretch by Jeff Bailey.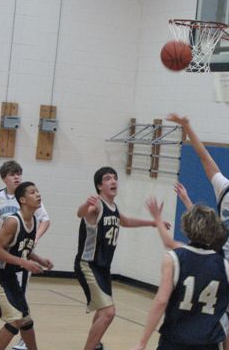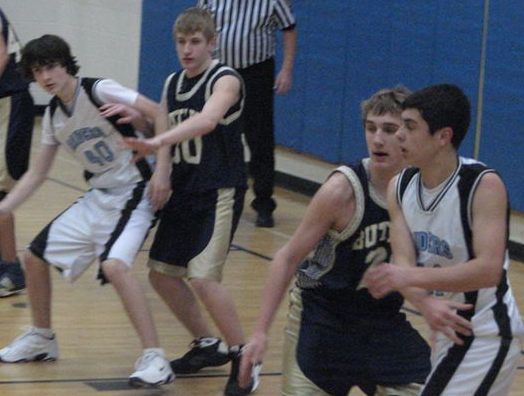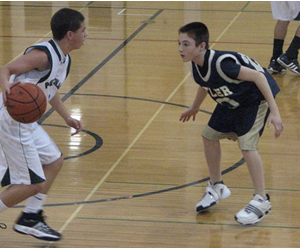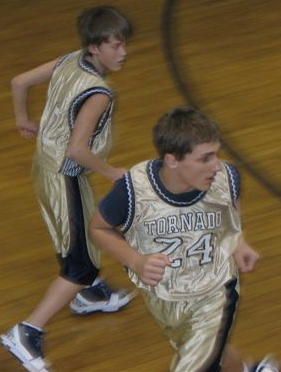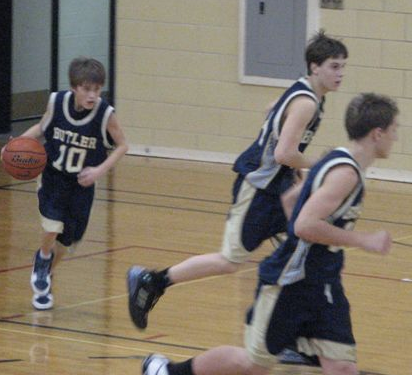 Thank you for your interest in the Golden Tornado Sports. We're upgrading our stat pages to provide you with better information. This site, www.goldentornadosports.net, is dedicated to bringing the viewer as much information as possible about each and every sport supported by Butler Athletics. All information regarding Butler Athletics is generated by students and parents who seek to provide the very best updated material for all to view. We invite you to submit any appropriate material by clicking the below address and attaching, doc.'s, photo's and other pertinent information related to the sport of your choice. Thank You.